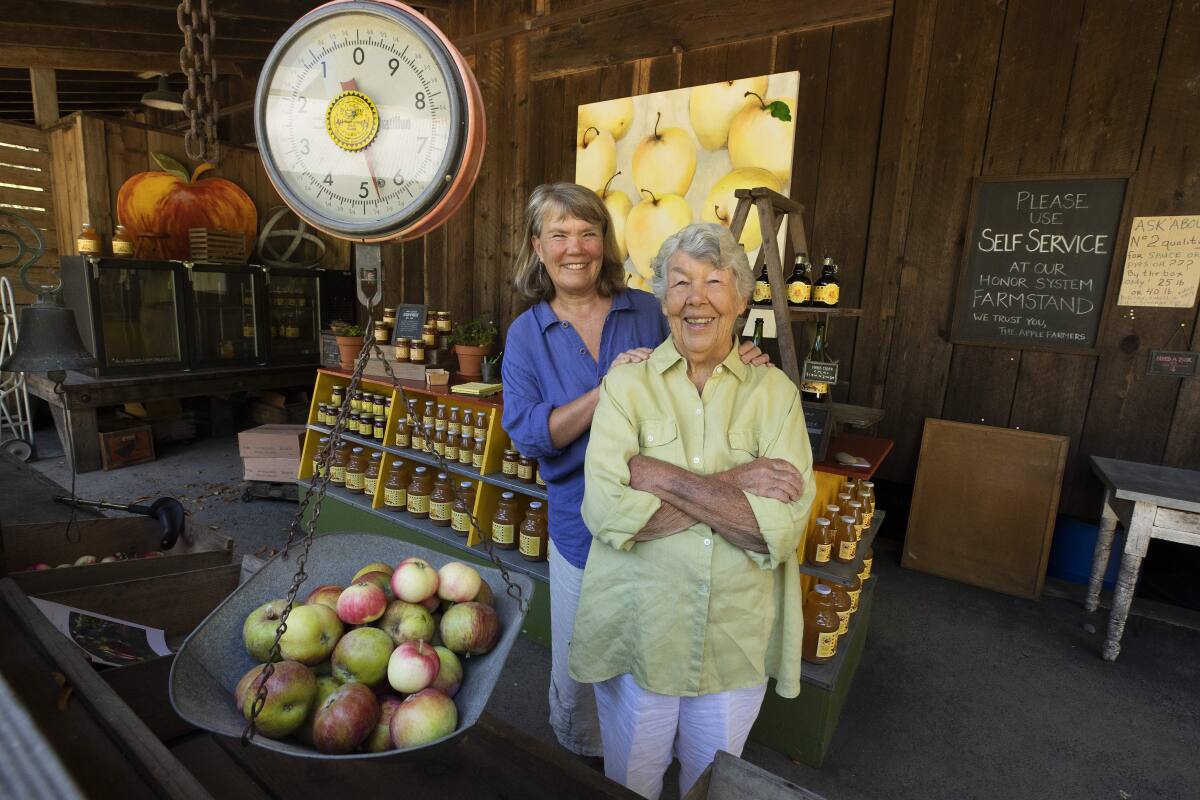 A farm-to-table pioneer, the founder of The French Laundry in Yountville leaves a culinary legacy
"The smell was intoxicating," she recalls. "As did my awareness that I was responsible for it."
She graduated from high school early, at age 16, and studied home economics at the University of California, Davis and the University of California, Berkeley, graduating in 1952 at age 20.
She had met Don at a wedding while still at UC Davis, and the pair continued to correspond after enlisting in the Air Force. They married in July 1953, then moved to Fresno, where Don had a job in the bank.
As a mother of five, Sally got into home cooking out of economic necessity as well as love, working her way through various cookbooks and entertaining her friends with the help of magazines such as Sunset.
In 1967, the family uprooted and moved to Yountville, where Don had been offered a job managing the Vintage 1870 Mall, a historic winery converted into shops, galleries and a café. It is now known as V Marketplace.
While Don managed the tenants, Sally took over management of Vintage Cafe, a burger joint with a soda fountain that had a gas grill at one end and Napa Valley's first and only espresso machine at the other. After firing the cook for not accommodating his suggestions, Sally's cooking career began. She took over the grill and hired her eldest daughters to make milkshakes and espressos for their growing lunch business.
"We soon knew the food was a big draw," she writes in her cookbook. "The cafe offered burgers and milkshakes, well done, just the way I wanted them. But I wanted to do more. »
Within three years, she had opened The Chutney Kitchen restaurant in a vacant corner of Vintage 1870, designing her own kitchen to use for the restaurant and to make chutney to sell to her customers.
In addition to serving lunch to winemakers' wives, The Chutney Kitchen began offering monthly dinners on Friday nights paired with Napa Valley wines, cooked using only local, seasonal ingredients. Fixed price five-course menus changed monthly.
Before long, Sally was also cooking lunch for the Napa Valley Vintners Association, which further sharpened her palate and boosted her confidence.
"The simple, no-frills food was what they liked the most," she wrote in her cookbook.
The Chutney Kitchen provided the plan and vision for their next restaurant. In 1974, they bought a dilapidated building in Yountville, then spent four years renovating it. The French Laundry opened on February 7, 1978.
The couple never had time to put up a sign outside, did not accept credit cards, did no advertising and never allowed smoking in the restaurant. They served a prix fixe dinner per night, and each day there was a different menu: a choice of three starters, a soup, a main course, a green salad with cheese and a choice of three desserts.
Tables were reserved months in advance.
Sally also planted an herb garden outside the back door and began to build relationships with local vendors of produce, wild mushrooms and local duck raised by Jim Reichardt of Liberty Duck in Petaluma.
During this time, Don put together a wine list focused solely on Napa Valley wines, and it kept growing, along with the line of winemakers who came through the door, including Robert Mondavi, Joe Heitz, Jack Davies of Schramsberg Vineyards and even the Dean of American Winegrowers, Andre Tchelischeff.
By the time the couple sold the restaurant to up-and-coming chef Keller in 1994, they had already purchased an apple farm in Philo, where they planned to retire.
For the next 15 years on the farm, Sally passed on her recipes and techniques to students from across the country to study with her and her daughter. Recipes, like The French Laundry menus, were always meticulously handwritten in a style Sally preferred: ingredients listed on the right, with instructions for those ingredients next to the left.
After losing her husband in 2017, Sally began to work on her memoir in earnest, recording all the stories of her rich life in her restaurant and home kitchens and organizing the recipes she wanted to leave behind for her family and friends. .
"I really did what I loved to do, which was always just cooking good food for those I loved," she wrote in her cookbook. "That's what counted. That's all that mattered.
She is survived by her sister Kay Stone of Santa Cruz; children Kathy Hoffman of Williams, Oregon, Johnny Schmitt of Boonville, Karen Bates of Philo, Eric Schmitt of Napa and Terry Schmitt of Sebastopol; 10 grandchildren and five great-grandchildren.
A private family celebration will be held in the spring. Donations can be made in Sally's name at Anderson Valley Health Center, PO Box 338, Boonville, CA 95415.
Managing editor Diane Peterson can be reached at 707-521-5287 or [email protected] On Twitter @dianepete56.