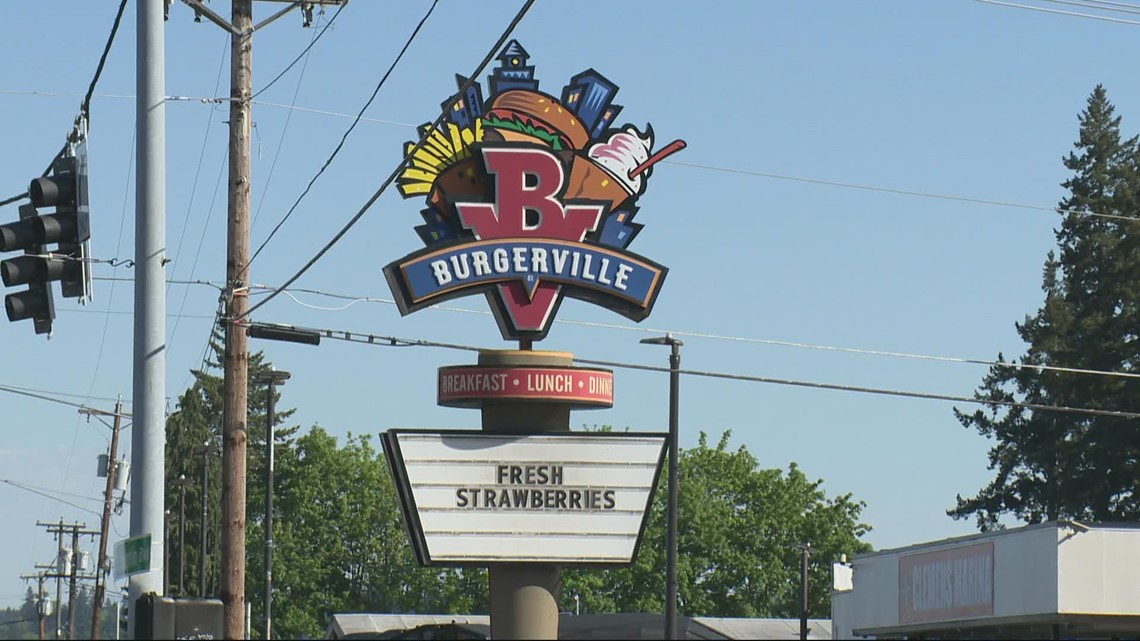 Burgerville begins the reopening of its dining rooms
The fast-food chain has been operating on a drive-thru and delivery-only model for two years due to the COVID-19 pandemic.
VANCOUVER, Wash. — Fast-food company Burgerville has begun reopening its dining rooms and indoor order counters for the first time in two years.
The Vancouver-based chain announced Wednesday that 21 of its 40 dining rooms are now open, with the rest expected to be open by the end of April. Most Burgerville restaurants are in the Portland metro area.
"Every restaurant is in a different place when it comes to hiring and staffing," CEO Ed Casey said in a statement. "As soon as a restaurant has enough team members, they open the doors and welcome customers back."
Burgerville closed all of its dining rooms at the start of the pandemic on March 14, 2020, although it kept most of its locations open with smaller shifts for drive-thru, take-out, and delivery. The company laid off about 42% of its workforce a month later, The Columbian reported.
RELATED: Burgerville and Workers Ratify Nation's First Fast Food Union Contract
Burgerville has stuck to that model ever since, even in the spring and summer of 2021 when most COVID restrictions were lifted. The company cited labor shortages as part of the problem, as opening dining rooms would require staffing up to pre-pandemic levels.
The company announced last summer that it was working on a plan to return to full capacity and reopen dining rooms, but the plan appears to have been put on hold when the delta variant sparked a new wave of COVID cases just weeks away. . later.
RELATED: Burgerville to reopen shuttered restaurants, expects union contract to be ratified soon
The chain closed five sites indefinitely at the end of the summer, citing a mix of pandemic challenges and local conditions, although some of them reopened in November.
Burgerville announced last month that it would no longer require employees to be vaccinated, following a Supreme Court ruling that struck down a federal mandate for the companies.