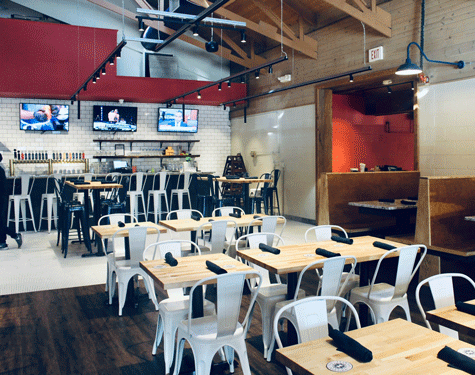 Immigrant Son Brewery opens in Lakewood
After an arduous journey, owner Andrew Revy launched his ambitious brewery concept in West Lakewood.
After two years of trials and tribulations, Immigrant Son Brewery has reached the finish line of a massive renovation and ambitious brewery approach to West Lakewood.
Open on October 25, the 9,000 square foot brasserie-brewery and restaurant consists of two dining rooms, a bar, a closed kitchen and a 10-barrel brewing system. Although the original features such as the towering wooden beams and skylights remain, the concept of the open dining room, the addition of the kitchen and the glass-fronted brewhouse are the result of a massive renovation. of the old Constantino market – a renovation that proved arduous when it began in March 2020, just as pandemic closures struck.
Owner Andrew Revy was planning to open Immigrant Son last summer, but construction delays made it impossible.
"People were looking forward to it so I think the excitement is real," says Revy, who certainly has proof of a busy first week to back this statement. "We had to deal with disruptions in construction schedules, supplies and funding, but we stayed the course. "
A nod to that spirit appears on the beers list for PerZverence IPA ($ 6), a 7.3% lemon-flavored West Coast IPA that's also inspired by the story of Zydrunas Ilgauskas, the legend of the Cleveland Cavs who survived career-ending injuries. leave a legendary legacy and take root in Northeast Ohio. Ten percent of the proceeds from this beer go to a charity chosen by Z and his wife.
The IPA sits alongside four staple beers – including another IPA, a season, a beer, and a lager – and nine other rotating specialty beers, which range from beers to porters. The brewery also distributes cans to specialty beverage stores such as Constantinos Market and Ross Beverage.
Stories like these permeate both the beverage and food menu, which draws on Revy's own roots as a first-generation Hungarian immigrant. The brasserie menus usually consist of burgers and pretzels – nothing wrong with that. But this menu tries to represent the tastes of the world. Bites such as a Spanish-inspired octopus ($ 15), a Hungarian fried dough called Langos ($ 6- $ 12), chicken paprikas ($ 24), Banh Mi ($ 14) and Branzino ($ 27 ), a whole fish roasted in a pan, surprise and delight.
"Both of my parents immigrated here, so growing up as an immigrant son, the immigrant story resonates with me," says Revy. "Langos and chicken paprikas are specific to my past, but I wasn't just looking to cook Hungarian cuisine. My wife is Greek so the octopus is a nod to her. I wanted people to be able to come and enjoy options for all kinds of tastes on a world-inspired menu.
Executive chef Rob Dippong, who previously worked at Johnny's Downtown and Gigi's On Fairmount, serves up these ambitious bites. Meanwhile, the sips come from master brewer Eric Luli.
"Chef Rob has a wealth of knowledge and Eric will be in the discussion for the best brewers in Northeast Ohio," said Revy. "The love of food shines through. We pay equal attention to beer and food.
"After two years of time, effort, research, recipe testing, relationship building with vendors, suppliers, brewers, etc., I was told they had 'decided to going in a different direction "a week before our first day of brewing," Baker wrote. on his Facebook page. "Over the past two years, I have devoted a lot of time, attention, energy and effort to helping build something bigger than myself and I haven't really been paid for them. services and assistance I have provided to help the brewery get to the point. it's today. I did this because I believed in the owner's vision and purpose and was promised profit sharing and future employment. I walked away from my current career and clients based on these promises and under the direction / order of ISB. I have remained committed to the project, even through many difficult times. I don't feel like I received the same in return.
These personnel changes added to the obstacles this project faced in opening up, Revy says. But as notable as it is, he says his long career in the service industry has taught him that staff changes are normal.
"Decisions are made for the betterment of the organization and people also make decisions for their own reasons," he says. "It's in the past, and we've evolved, and we're very happy to be open and absolutely delighted with the staff that we have now."
Regardless of how Immigrant Son got here almost two years after the start of the project, the Lakewood Brewery and Restaurant has already solidified itself as a major player in the local restaurant scene thanks to a solid beer and a daring menu.
For Revy, space represents a celebration of community and togetherness.
"It's a place to come and get together and enjoy friends and family and have a good time – and what better way than to drink and eat food?" " he says. "You know we are a nation of immigrants and all of the people who have come here have brought their culture with them and a lot of the culture is the food and drink they brought here."