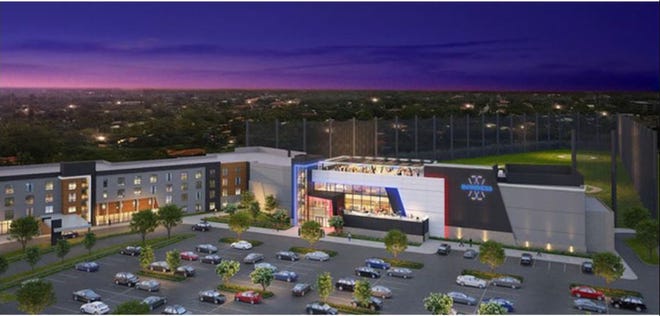 Johnston Bombers Golf & Entertainment Complex Coming to Metro Des Moines
The Johnston Bombers Golf and Entertainment Complex, another Topgolf-style driving range and restaurant, is in the works for the Des Moines metro area at 5055 Merle Hay Road, just north of Interstate 80/35.
Typically, the resort will be a four-story, 45,000-square-foot arena with 60 air-conditioned hitting bays from which golfers can crash into a 245-yard driving range. A full-service restaurant, numerous themed bars, an interactive video sports section, an arcade and a rooftop bar are also part of the proposal.
Also Read: Construction Begins on Topgolf Entertainment Center in Louisville
An 80-room hotel will also be built adjacent to the golf course, with many suites connecting directly to the golf bays, a first in the country for this type of golf facility. In addition, three commercial buildings for catering, retail and/or entertainment businesses will also be constructed.
Eric Kann of Stoye & Kann said leveling work had already begun, with the official opening scheduled for March.
About Johnston Bombers Golf and Entertainment Resort
5055 Merle Hay Road, the land on which the Johnston Bombers Golf & Entertainment Complex will be developed is city-owned land that the City Council has unanimously decided to sell to the Iowa-based realtor and business developer , Stoye & Kann Development, which is behind the project.
In addition, the city will also sell 5229 and 5249 Merle Hay Road, sites that were previously occupied by the North End Diner and a Best Western Hotel, both closed over a decade ago, to Stoye & Kann for 1, US$6 million. .
The restaurant's historic sign will be restored and transformed into a "Welcome to Johnston" sign.
The city council provided a pre-development grant of US$2.5 million to help prepare the site, US$14.6 million in tax increment funding for the golf course and hotel, and US$8.1 million for commercial buildings in exchange for the US$85 million. investment.