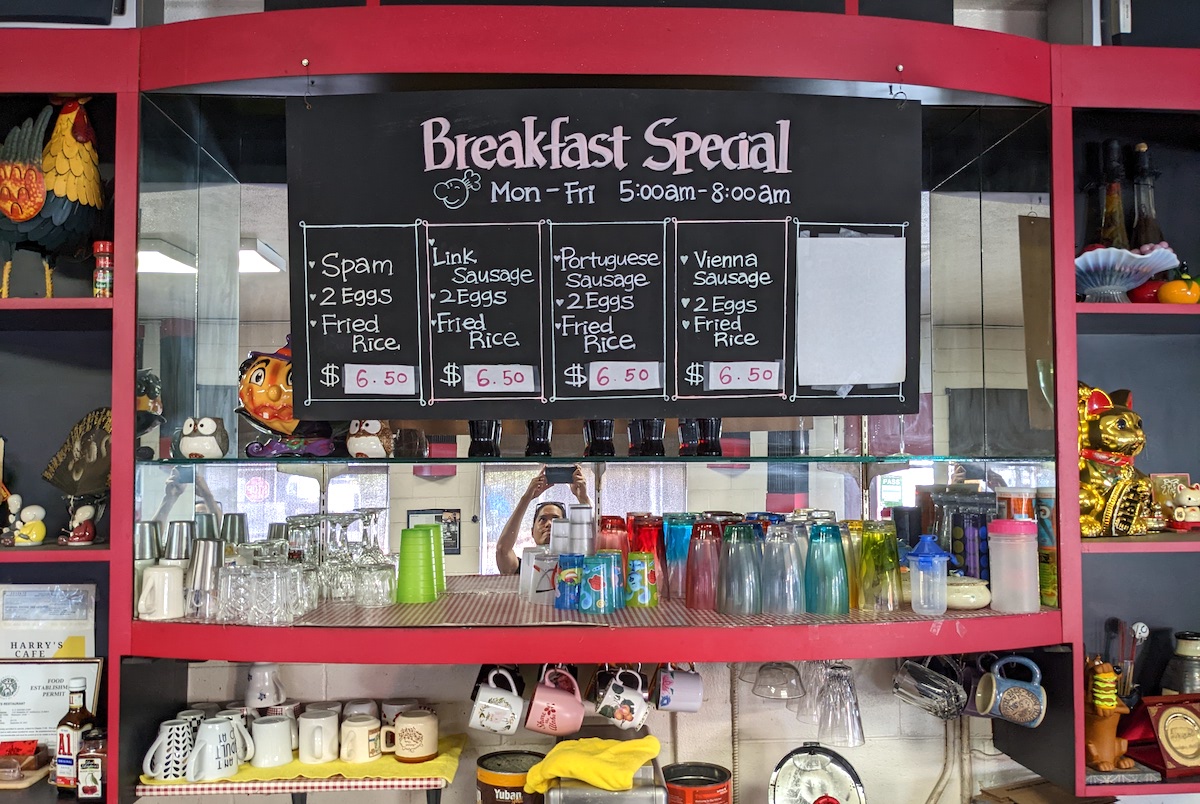 Old-Fashioned Diners We Love: Harry's Cafe in Kaka'ako
Ohen I lived in Kaka'ako, I loved being able to walk everywhere. Especially places where parking is a problem. Like Ala Moana Center on holidays, Magic Island on weekends, and Harry's Cafe most days. I loved my old apartment, but when it came to cooking, my options were a microwave and a hot plate. So having Harry's Cafe across the street was a convenient way to satisfy my cravings for a favorite breakfast: pancakes.
I remember the first time I ordered their pancakes. It was around 6 o'clock in the morning. I sat at the counter and watched people coming and going, going to work or returning from a long night. There were a lot of big guys in neon green shirts. Construction workers refueling for the day. I noticed that the guy sitting next to me looked familiar. Turns out it was my next door neighbor. I had seen him around the building but this was the first time I had a conversation with him.
---
SEE ALSO: Hawaii's Oldest Restaurants Are Still "Ono" After All These Years
---
Harry's Cafe has been a mainstay for the city breakfast crowd for decades. Their 99 cent breakfast was a longtime favorite, consisting of an egg, a piece of cold meat or ham or sausage and a ball of rice, appealed to anyone interested in a cheap and tasty meal. Over the years, Harry's Cafe has had to raise its prices. The 99 cent breakfast is gone but not forgotten.
Now that I'm married and living in the suburbs, I decided to come back with my wife and my mother-in-law. A kind of check-in to see how an old friend is doing. I was pleasantly surprised to see that they now accept credit cards. For a while, I started with the pancakes ($8 for a small stack of two). I wasn't sure what to expect, but I was looking forward to a taste. They were better than I remembered. Substantial and thick. Golden brown and harboring the slight sweetness of vanilla.
Next is the ground beef ($14.25). It's hard to go wrong with this local comfort food favorite. A beef patty, with a slight smoky flavor, dipped in gravy.
---
SEE ALSO: What you don't know about the last Anna Miller on Earth
---
The final course was another comfort food: beef stew ($14.25). Consisting of a generous portion of carrots, accompanied by pieces of fatty beef, swimming in a sauce. A rice and mac salad completes the dish.
When it comes to classic eateries like Harry's Cafe, there's a sense of history and nostalgia that pervades the place. Looking down at the floor, you can see the scratches that have accumulated from decades of going back and forth. A faded poster for a Kenny Loggins concert in Waikīkī in 1995 is framed near the back corner. In the opposite corner is an arcade cabinet offering card games. On another wall is a framed HONOLULU magazine article about Harry's Cafe, written years ago by Frolic's editor, Mari Taketa. It's near a photograph of the original owners of Harry's Cafe. The place hasn't really changed over the decades, it just added more history. A story I can show my son when he's old enough for pancakes and ground beef.
1101 Waimanu St, (808) 593-7798