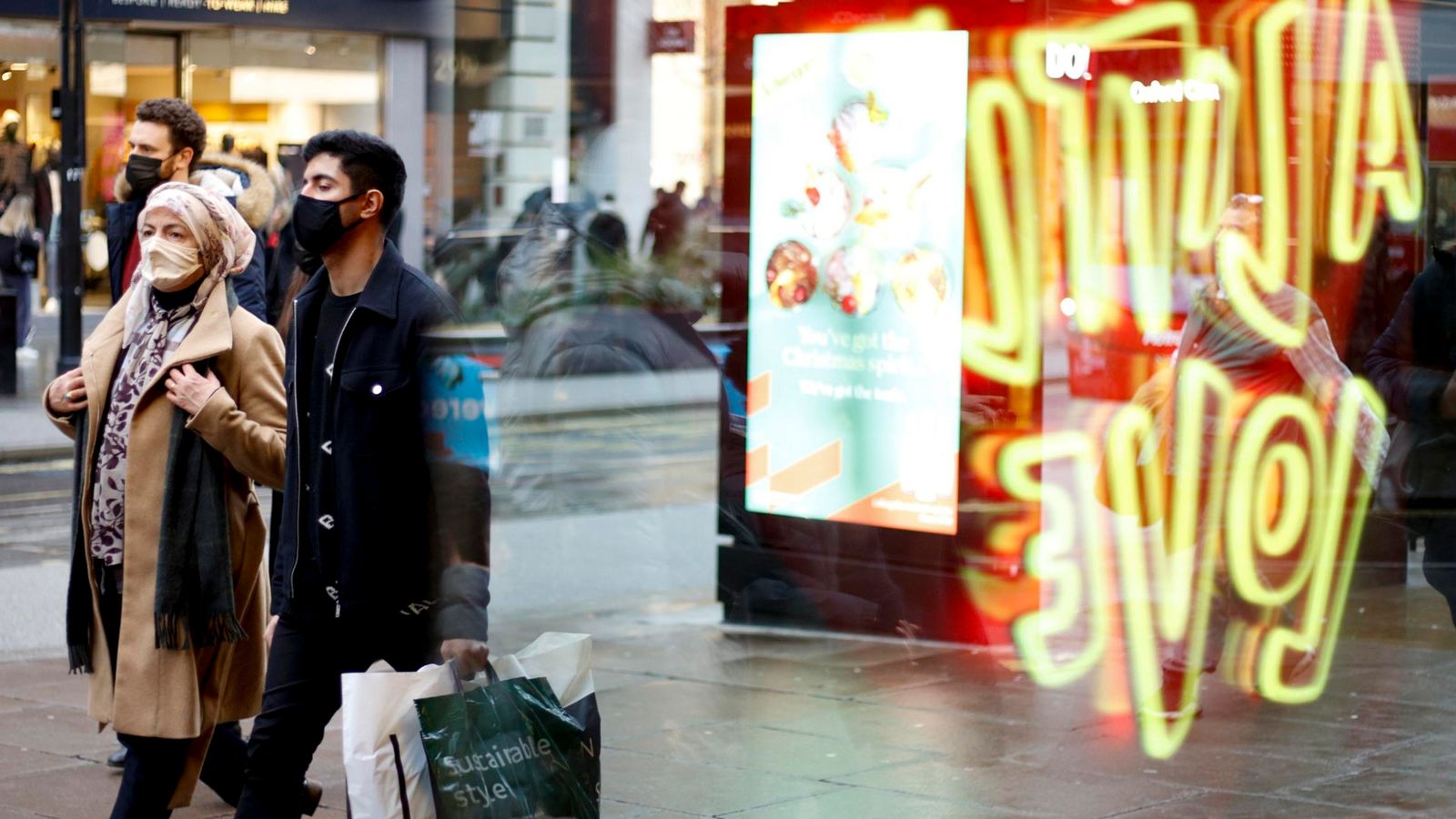 Retail and restaurants dragged down as Omicron curbed appetite for shopping and Christmas parties | Economic news
Retail and restaurant Christmas spending was curbed last month as the spread of Omicron and restrictions to deal with it took a toll on shopping and parties, new industry data shows .
Figures from the British Retail Consortium (BRC) and a separate monthly report from Barclaycard revealed how the COVID variant – and the measures to deal with it – have softened what is normally a boom for much of the economy.
The BRC report, compiled with KPMG, showed retail sales were 2.1% higher than the same month last year, a slowdown from the 5% growth seen in November and well below growth of 9.9% for the whole of 2021.
Omicron impacts businesses

Paul Martin, UK retail manager at KPMG, said Omicron's release and updated government guidelines "have slowed spending in the last few weeks of the year."
BRC chief executive Helen Dickinson said the numbers showed sales had held up despite Omicron, with many choosing to shop online rather than hit the main streets or malls.
But the anxiety over the variant was reflected in the products shoppers bought – loungewear proved popular as more work from home loomed, while formal wear sales slowed.
Ms Dickinson said retailers now face a "storm ahead" as consumer spending this year is expected to be held back by cost-of-living pressures, including rising energy bills and rising energy costs. national insurance.
Separate figures from Barclaycard – which are based on almost half of UK credit and debit card transactions – illustrated broader consumer spending trends, encompassing the leisure and hospitality sectors as well as retail.
They showed spending rose 12.2% from pre-pandemic levels, although this was largely due to supermarket spending and fuel.
"Any other restriction on retail should exceed a very high bar"

Spending on restaurants was 14.1% lower than 2019 levels, a much larger gap than the 3.5% deficit seen in November, while hotels, travel agents and airlines also saw a decline. difficult month because plans were put on hold.
Card spending at pubs and clubs was 21.2% higher than before the pandemic, but this was a slowdown from the 35% increase in November.
Barclaycard found fashion was also a victim, with slower growth blamed on the cancellation of Christmas parties and events.
The report attributes the broader spending slowdown to a strong November, which saw many shoppers do their Christmas shopping earlier, the report.
Jose Carvalho, Head of Consumer Products at Barclaycard, said: "With consumer card spending levels on the rise in 2019, December was a mixed picture for retail, hospitality and leisure, as restrictions to curb the spread of Omicron began to take effect.
"More and more Britons were isolating themselves or choosing to stay at home because of the new variant, which hampered face-to-face retailers as well as hospitality and leisure outlets."
The numbers come after data from last week suggested the Omicron variant wreaked havoc on store visits in December, with footfall falling even further than pre-pandemic levels.
A report from data firm Springboard said that Omicron's spread coupled with Plan B directions "meant the natural increase in buyer activity that typically occurs as Christmas approaches has not happened. materialized ".
During this time, bakery chain Greggs said he saw "more difficult conditions as consumers responded to precautionary messages relating to the new variant of the coronavirus".