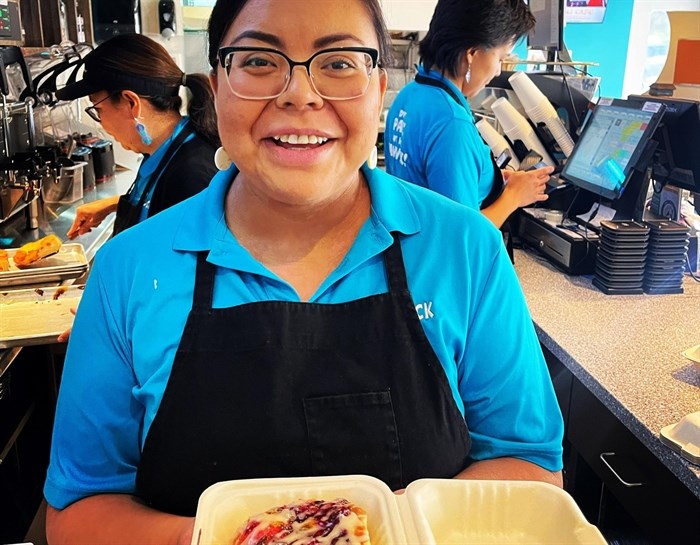 The new Kamloops Kekuli Café is barely keeping up with demand
A bannock restaurant that opened last month has so many customers that you probably have to wait in line.
Kekuli Café owner Elijah Mack-Stirling said the first month of opening business had been a whirlwind.
"We serve hundreds of gourmet bannock dishes every day," he said.
Mack-Stirling has been working tirelessly for weeks to keep the business running with the help of his staff and family. He said the secret to his success is that every item on the menu is made from scratch and it comes through in the flavors of the food.
Kamloops resident Gabriella Cattaneo was among several customers at the bustling cafe earlier this week.
She and her grandmother tried the food for the first time and ordered the Smoreo Baked Bannock and the Score Baked Bannock.
"We really wanted to come here because it's something new and unique in town," she said. "The menu is authentic and creative and the atmosphere is inviting. I like the idea and it's different.
Some bannock offerings are baked and some are fried and all have a creative and modern twist on the traditional Aboriginal staple. These delights came with swirls of candy fillings.
It was love at first bite.
"It's so sweet and fresh," Cattaneo said, her grandmother nodding. "It's soft on the inside and crispy on the outside. It's really delicious. It's sweet but salty at the same time.
"I definitely plan to go back and try the menu more."
In the kitchen, Mack-Stirling was busy making traditional fry bread. Based on a family recipe, he makes hundreds every day.
"This family recipe has been carried on for many generations," he said. "After forming the loaves, I put them in the fryer. They are added as an accompaniment to many of our dishes.
Just as Kekuli Cafe's cuisine is unique, so is the work culture, which he attributes to the success and well-being of his team.
"When I welcome a new employee into the company, I also welcome them into the family," he said. "We're very family friendly and when times get tough, we can really pull together to get through it."
The popular franchise is the third of its kind with an outlet in West Kelowna and an outlet, also owned by Mack-Stirling, in Merritt.
Part of Mack-Stirling's vision is to promote its Indigenous culture and history through traditional ingredients and a warm, relaxed atmosphere.
"The last boarding school closed in 1996, the year I was born," he said. "A mere 26 years ago, we lived in a racist society fighting for basic human rights and to simply be recognized. Now we serve bannock and invite everyone to join us right in the heart of Kamloops.
"I feel honored and empowered to be a part of this."
Mack-Stirling is motivated to use the company to invest in youth. 70 percent of his 30-person staff at the Kamloops Café are in their teens or twenties.
"It's so honoring to have the opportunity to employ young adults and help them develop their leadership and character," he said. "I don't want it to be an end goal for them, I want them to pursue their goals and dreams and know how to handle challenges and successes."
The cafe is currently open 7 a.m. to 4 p.m. Monday through Friday, but hours will be expanded next week to include a dinner hour and weekends after staff training ends.
The busiest times are in the morning when people stop by on their way to work and during the lunch rush.
When asked which menu offerings are the most popular, Mack-Stirling said it always changes, but venison cheese bannocks and Saskatoon berry smoothies are favorites.
---

To contact a reporter for this story, email Shannon Ainslie or call 250-819-6089 or email the editor. You can also submit photos, videos or news tips to the newsroom and be entered to win a monthly prize draw.

We appreciate your comments and opinions on our stories, but play well. We will not censor or delete comments unless they contain off-topic statements or links, unnecessary vulgarity, false facts, spam or obviously fake profiles. If you have any concerns about what you see in the comments, email the editor in the link above.